Simply having fire extinguishers in your building isn't enough. You also need to conduct fire extinguisher testing at regular intervals as part of a complete fire safety plan. However, the frequency of testing may not always be clear, which may cause business owners to neglect this important safety consideration.
Failing to do regular fire extinguisher inspections can put your entire business at risk. It can lead to malfunctions that can jeopardise your safety, especially during real emergencies. To help you avoid this, make sure to schedule fire extinguisher testing as prescribed by national standards.
When to schedule fire extinguisher testing
Scheduling regular fire extinguisher testing is a way to ensure your fire safety equipment remains in good condition.
According to NZS 4503:2005 standards, which are the national standards pertaining to hand-operated fire-fighting equipment, you need to have fire extinguishers tested at least once every 12 months.
However, there are certain levels of testing you need to be aware of. Special tests need to be carried out more frequently by trained professionals, and how often depends on various criteria such as the conditions in your workplace and the type of fire-fighting equipment you have.
Here is the recommended timeline to ensure that your extinguisher is safe and ready to use when needed.
Every month
Fire safety professionals will check:
The position of your fire extinguishers and whether they are stored safely
If the signs pointing to the fire extinguishers are clearly marked and visible
The exterior is not dented or damaged. Extinguishers may be rendered useless when moved inadvertently, knocked, or tampered with, whether intentionally or not.
The fire extinguishers' pressure gauges are still pointing to green. This means that the extinguishers haven't been used yet, and are ready for use in the future.
Every 6 months
Fire safety professionals will check:
If fire extinguishers are installed correctly and easily accessible
The fire extinguishers' parts are complete and undamaged (e.g. locking pin should be intact, tamper seal should be unbroken, nozzle should be unclogged, etc.)
Whether all employees know where fire extinguishers are located
If the pressure inside each extinguisher is enough
Every year
Fire safety professionals will:
Check the operating instructions on the extinguisher to see if everything is clear and easy to read
Weigh the extinguisher and record information on the label
Clean the extinguisher and get rid of blockages
Tag and date each fire extinguisher. This way, you can confirm that your business is up to date with regular inspections and compliant with fire safety regulations.
Verify that each wall mounting brackets are secure, reachable, and easily accessible in case of emergencies
Every 5 years
A licenced cylinder test station should conduct three tests:
The same checks as the annual service
A discharge test where the internal conditions of each extinguisher are inspected. Each canister should empty out fully, and if it does it will be refilled and re-pressurised.
A hydrostatic test where the fire extinguishers are emptied, placed underwater, and subjected to high pressures
The fire extinguishers that fail any of these tests must be destroyed and replaced immediately.
It's also important that every inspection or test conducted is recorded in a log book. All identified faults and raised concerns should be resolved quickly to ensure proper maintenance and fire safety.
How can you do fire extinguisher testing on your own?
While fire extinguisher testing should always be performed by professionals, there are several things you can do to ensure that your fire extinguishers are well-maintained and safe to use.
This includes:
Making sure that you have the right type of fire extinguishers based on the nature of your business
Checking if your fire safety equipment is easily accessible and placed in a secure location
Placing clear and visible signs pointing to your fire extinguishers
Conducting staff training to ensure that they know how to use the equipment
Immediately calling fire safety professionals when you notice that your fire extinguishers are tampered with, damaged, moved around, or discharged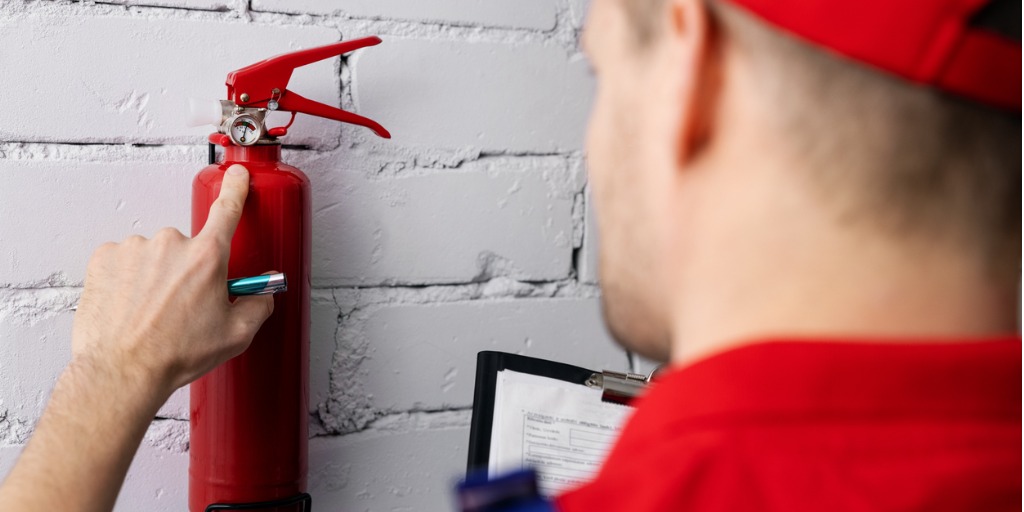 Why should you test your fire extinguishers?
Failure to comply may result in a safety hazard and hefty fines of up to $10,000 for individuals and $20,000 for organisations.
Aside from being a legal requirement, fire extinguisher testing is important simply because it ensures that your business is safe.
The Fire Extinguisher Testing Experts You Can Rely On
For dependable fire extinguisher testing services, reach out to our experienced and fully qualified team of fire safety professionals.
We provide the following complimentary services when you reach out to us for fire extinguisher testing:
Reminder Service – Keeping up with this timeline can get pretty hectic, so we will let you know when your equipment is due again for retesting.
Data Management Service – We will keep an accurate record of all your testing results for you.
We have everything you need in one team, including a wide range of services that include fire extinguisher testing and inspection, fire hose reel testing, fire blanket inspection, and more.
This is why Jim's Fire Safety is the most trusted name for fire extinguisher testing services by businesses from all over New Zealand.
Contact Jim's Fire Safety to request a free quote.