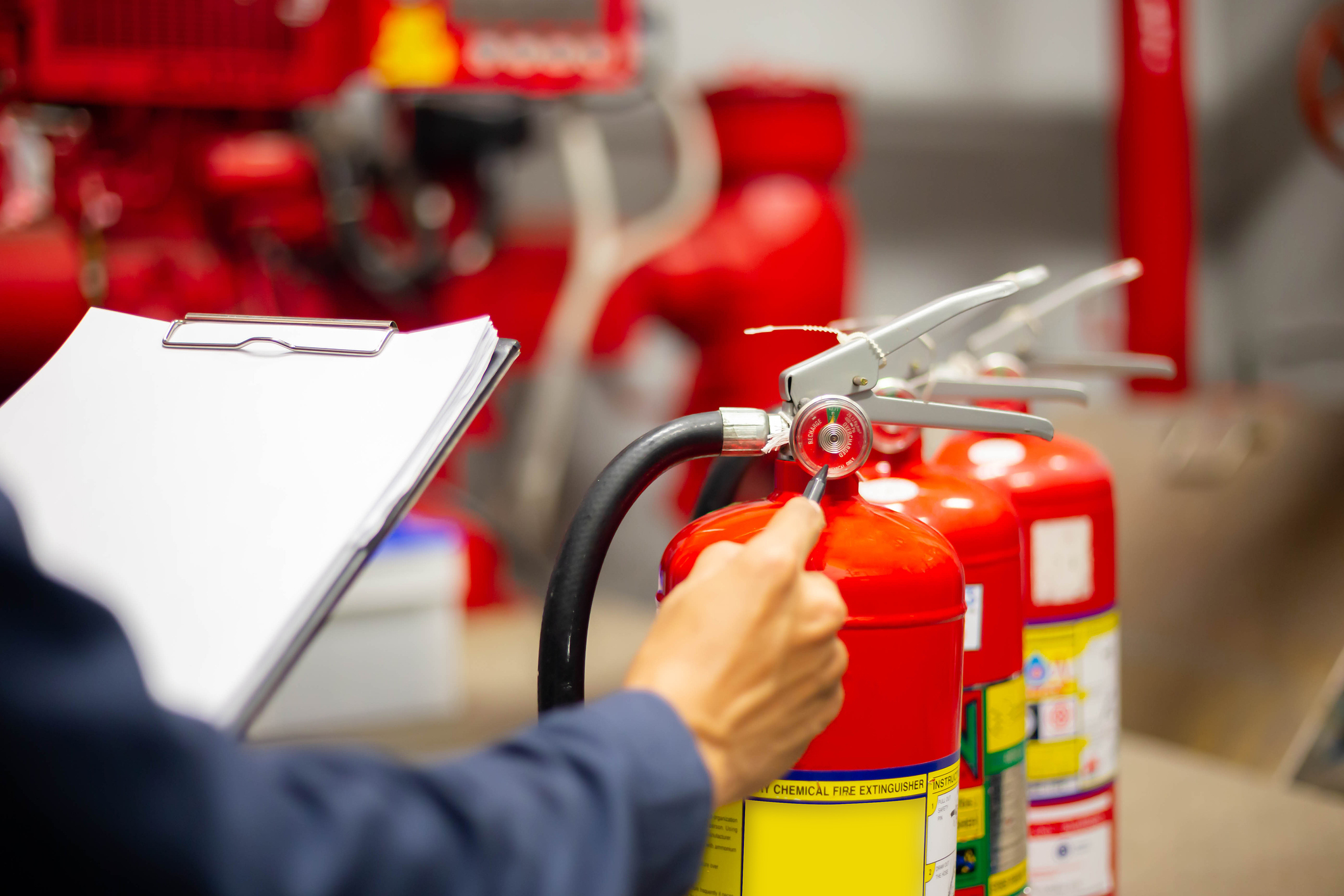 It's vital to service fire extinguishers and always be prepared
It's important that your workplace is kept as fire safe as possible at all times. There is no better time than the present to ask yourself is all your fire equipment up to date and ready to use in the event of a fire? If not, or you are just unsure, then you need to act quickly.
Making sure you have the skills and experience of a professional fire safety team looking after you gives you peace of mind, saves you time and a huge amount of unnecessary stress. Knowing you have experts who can service fire extinguishers, fire reels and do a thorough inspection of all your fire equipment means you can get on with running your business.
Why fire extinguishers are still No.1
A fire extinguisher is your first form of defence against a fire. The location of each fire extinguisher is crucial to accessing it in an emergency and using it effectively in a nearby area. Fire safety experts can inspect and advise where fire extinguishers and any other fire equipment should be kept and how often they need to be maintained.
Servicing fire extinguishers is crucial to their use. There is nothing worse than thinking that you have a form of fire protection, only to discover that this vital equipment doesn't work properly when you need it most.
There are a number of things that can go wrong with a fire extinguisher, including:
The shell or valve of the extinguishers is damaged or corroded
The hose has cracked or split
The pressure guage is damaged or faulty
There is a problem with the handle and cannot be properly held or unfastened
It's also important to note that having the wrong fire extinguisher will not only be useless in a certain type of fire, but it could be dangerous to use and even fatal.
You need to know that the fire equipment you have is in full working order and has been properly maintained and checked on a regular basis.

Why fire extinguishers matter
Fire extinguishers are crucial to fire safety because of their ablility to be moved to the area of the fire and directed at the flames from a safe distance.
By directing the hose and whichever agent that particular extinguisher is used for, any burning material will be cooled, the flames of the fire will be deprived of their fuel source (the oxygen in the air) or the agent will interfere with the chemical reactions going on within the fire.
It is vital that different people are trained in the correct use of a fire extinguisher and know the different types of extinguishers to tackle varying fires.
Those staff or employees should also be sure that the equipment they use has been correctly maintained according the latest government regulations. There is no time to second guess fire equipment, especially under the stress of an emergency situation.
That's why it's crucial to have professionals service fire extinguishers and equipment throughout the work premises.
Having a trusted and experienced team do all the hard work for you makes good business sense and keeps you fire safe. That's where Jim's Fire Safety is the name to remember for businesses right across New Zealand.
You don't get second chances when it comes to fire safety, that's why contact the best in the business is the first thing you should do.

The experts at Jim's Fire Safety are here for you
For quality fire safety services, including professional testing, regular maintenance, safety checks or inspections, you can't beat New Zealand's top team.
The team at Jim's Fire Safety are all fully qualified fire safety professionals, highly trained in a range of services. It is the ongoing commitment to continued training that means Jim's Fire Safety always stays up to date with all things fire safety related.
It is the attention to detail, quality of service and special customer care that sets  Jim's Fire Safety as the benchmark for fire safety services throughout New Zealand. They have a dedication to excellence that means your workplace and staff are looked after in the best possible way.
Jim's Fire Safety has a full range of services which includes; fire extinguisher service and inspection, fire hose reel testing, fire blanket inspection, electrical testing and tagging, RCD testing, and even microwave testing.
With Jim's Fire Safety behind you, your fire safety is taken care of by the trusted team of experts.
Contact Jim's Fire Safety today via the online form for a free quote on safety testing and inspection services.