A frequently asked question to do with fire extingishers is "What is the difference between foam and dry powder fire extinguishers?" To understand this fully it will help to understand the types of fires that can occur and the different extinguishers that are used to fight these fires.
Fire extinguishers may be small but they play a huge role in fighting a fire in the home and workplace. They save lives and destruction by preventing a small fire from becoming a blazing disaster, but you've got to use the right fire extinguisher.
The different types of fires that can occur
If the fire is hot enough, anything can burn. Whatever it is that's burning has its own risks associated with it. To make it easy for firefighters, fires have been put into classes.
Here's a list of the classes of fire:
Class A: Wood, paper, textiles
Class B: Petrol, diesel, oils
Class C: Gases such as propane, butane, methane
Class D: Metals such as aluminium, titanium, magnesium
Class E: Electrically energised items such as computers, phones, chargers
Class F: Cooking oils and fats
Each type of fire needs a specific fire extinguisher if it's to be brought under control safely.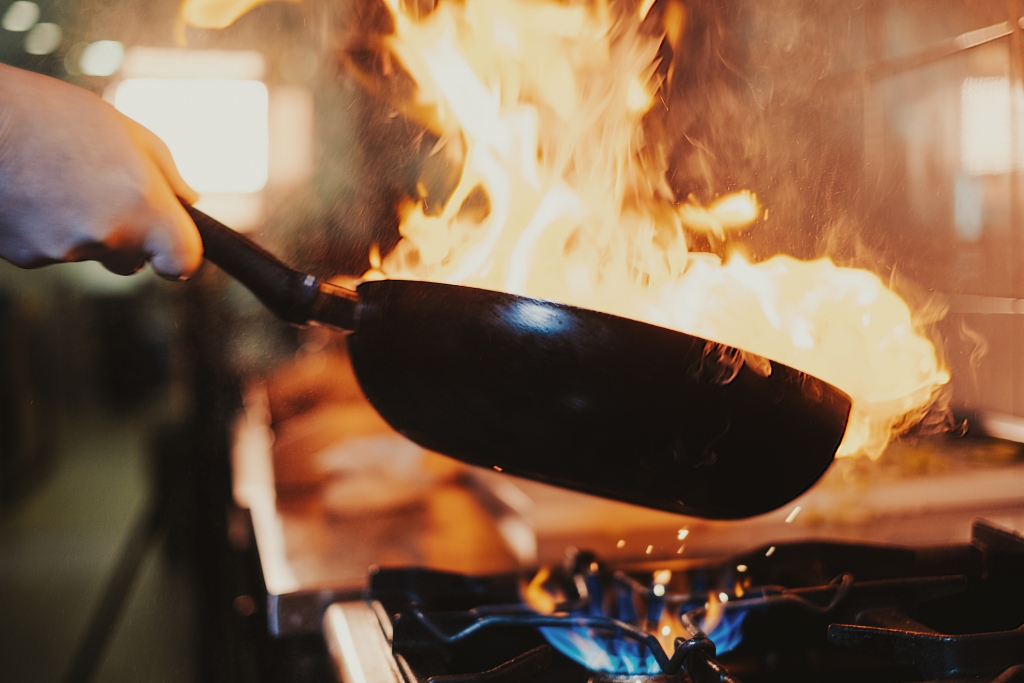 Which fire extinguishers put out which fires?
If you're cooking at home and a cooking oil or fat fire begins in the kitchen, you'll need a fire extinguisher that combats oils and fats. By checking the class of fire, you'll identify it as an F Class. In this case, the fire extinguisher you need is a wet chemical extinguisher. Cooking oils and fats is just one class of fire.
Here are the different types of extinguishers and the classes of fire they're rated for:
Water for class A fires
Foam for classes A and B
Dry powder for classes A, B, C, E
Wet chemical for classes A and F
Carbon dioxide for classes B and E
L 2 and M 28 powder for class D fires
Each of these have unique contents specifically to combat what's burning.
What are foam extinguishers?
Now that we've addressed what types of fires and fire extinguishers there are, what is the difference between foam and dry powder fire extinguishers?" Let's look at foam first. 
There are many different types of foams used in fire extinguishers:
AFFF Aqueous Film Forming Foam
AR Alcohol Resistant
FP Fluoroprotein
FFFP Film Forming Fluoroprotein
PFAS Per- and poly-fluoroalkyl substances, including perfluorooctane sulfonic acid (PFOS) and perfluorooctanoic acid (PFOA)
Each foam has it's own unique formula. The composition of the different foams includes things such as surfactants, solvents, stabilisers and thickeners. It's important to note that foams may have the same name but the combination of specific ingredients can differ over time.
The actual ingredients can also differ. For example, if there was any residue left in the extinguisher and it wasn't cleaned out sufficiently, the residue will mix with the new foam when it's being filled.
How do foam fire extinguishers work?
The foam works by covering the flames. This deprives the fire of oxygen, preventing it from releasing flammable vapours. When putting out flammable liquids, the liquid drains from the foam before it forms an aqueous film.
Important features of a foam extinguisher include:
Moderate spray range
Lasts 10-30 seconds
Leaves residue
What is the difference between foam and dry powder fire extinguishers?
What are dry powder fire extinguishers?
Dry powder fire extinguishers contain fine powder. This powder is an extinguishing agent generally made out of a combination of monoammonium phosphate and ammonium sulfate.
When discharged, a blanket of fine powder covers the burning objects, creating a break between the fuel and the oxygen in the air. It also breaks the chemical reaction.
The features of a dry powder extinguisher include:
Requires great accuracy to put out the fire
Short to moderate spray range
Lasts only 10 to 25 seconds
Leaves residue
A dry powder extinguisher can be used on Class A, B and C fires. It can also be used for electrical equipment, but it doesn't cool the fire so it may re-ignite.
There is also a dry powder formula for class D fires. The powder is known as M28 and L2.
M28 contents are based on Sodium Chloride, which is treated with flow and moisture repellent additives. It's specifically formulated for metal fires, and fuses the powder to form a crust. This prevents oxygen reaching the surface of the molten metal.
The L2 is formulated for fighting all metal fires including lithium.
To make sure you have the right fire extinguishers for your home and workplace, you need help from a fire safety specialist.
Jim's Fire Safety are trusted professionals
The best way to maintain safe, working fire extinguishers is through regular fire extinguisher inspection by Jim's Fire Safety.
Our technicians are highly experienced and have a solid reputation for thorough fire safety services from one end of New Zealand to the other.
Jim's Fire Safety technicians undergo comprehensive training and are always up to date with the latest fire safety regs. This gives you and your staff peace of mind, knowing the fire safety equipment in your workplace is all in order and functional at the time of testing.
Let Jim's Fire Safety protect your workplace and home. Book in a thorough Fire Extinguisher Inspection by calling our friendly team today, or fill in the online form for a free quote.