Knowing where to get a fire extinguisher serviced could be a life saver
Your fire safety is determined by the fire procedures you follow and how well your fire equipment can protect you.
It's been said before and you will hear it again, you don't get a second chance when it comes to a fire emergency. You need the best in fire safety measures and a key component is fire extinguisher inspection and servicing.
To be sure that your workplace is as a safe as possible, it's crucial that you maintain your fire equipment properly and regularly. Too many work premises are left under resourced when it comes to a fire and the amount of damage and even heartbreak can often be avoidable.
That's when it is important to know where to get a fire extinguisher serviced.
Only as safe as your fire safety measures
The key to workplace safety is knowing that you have everything in order and that you have done all you can to ensure your entire worksite meets all the necessary safety standards.
This is why fire safety is an integral part of the entire workplace safe environment.
When it comes to being fire safe, the first port of call is your first line of defence should a fire start.
This is where the importance of having fully functioning fire extinguishers becomes the top priority. Just having a fire extinguisher somewhere on your premises is not enough to ensure the safety of your workplace.
There are several key questions to ask:
Do you have the right fire extinguishers for the different types of fire?
Are they in full working order?
Are they easily to access and safely positioned?
Do staff know where the fire extinguishers are?
Do staff know to operate the specific fire extinguisher effectively?
Too often, fire equipment and especially fire extinguishers are placed in the wrong position.
There are extreme cases where a fire extinguisher is stored at the back of a cupboard or even locked in a storage unit.
On other occasions, an extinguisher is made 'out of reach' because it is wrongly positioned in relation to where the fire could break out.
For example, a fire in a workplace kitchen (which is a common starting point for incidents of fire) needs to be contained as quickly as possible. Having a fire extinguisher hanging by the door, in full view, is the proper position.
Positioning and servicing your fire extinguisher
In accordance with fire safety standards, most fire extinguishers will be located near a fire exit (or escape route). The extinguisher will be mounted at a height that anyone could easily reach and where it can be easily detached from the wall mount.
Each and every fire extinguisher should be fully serviced and that servicing needs to be up to date.
The fire safety technician will ensure that all extinguishers are in full working order and that they are positioned correctly and not in an area where proper access is obstructed or difficult.
When it comes to ongoing use and safety maintenance, the facilities or building manager should be responsible in checking that no fire extinguisher has been tampered with or moved from their mount. They should also ensure that access to all fire equipment is not obstructed by fittings, furniture or other workplace equipment.
It is imperative that extinguishers remain in the position they were when installed by the technician. There is no point having a fire extinguisher if it cannot be found or accessed easily in an emergency situation nor should there be any doubt that it will work properly in the event of a fire.
This is why it's just as important to know where to go for help with your fire safety and where to get a fire extinguisher serviced and positioned.
That's where the experts in fire safety across New Zealand are your safest bet.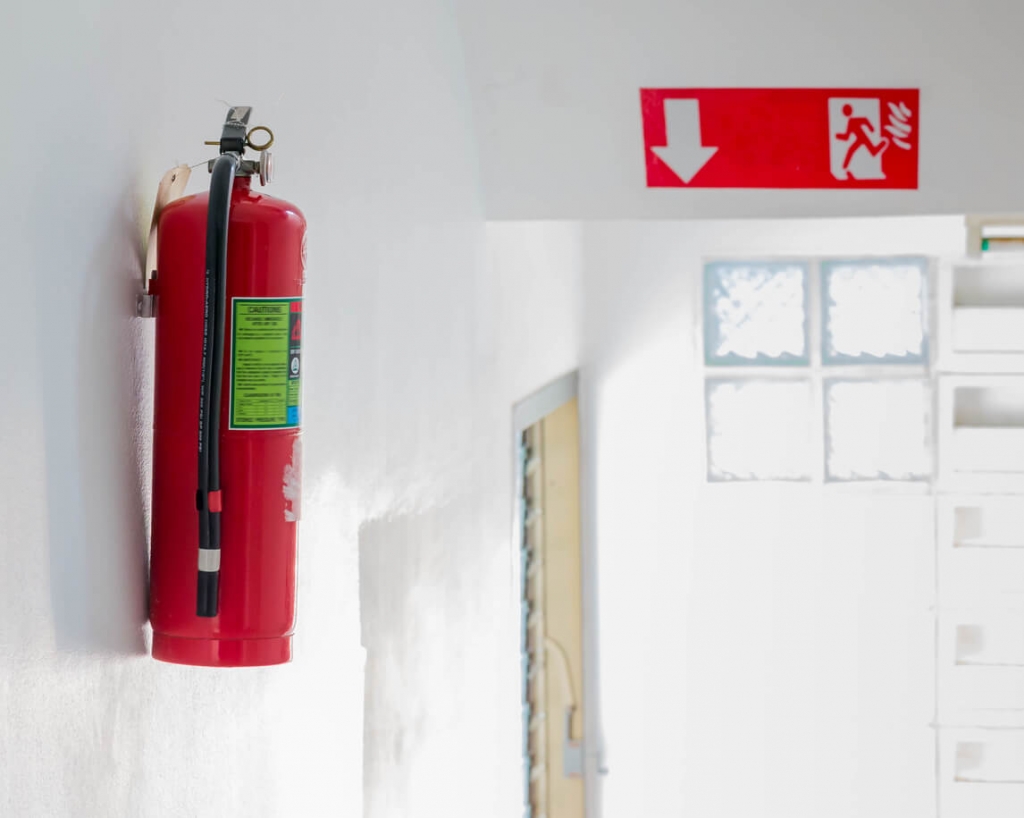 Jim's Fire Safety are New Zealand's trusted professionals
When it comes to fire safety, you can't go past the experts at Jim's Fire Safety.
All our technicians are highly trained in fire protection, inspection, and fire equipment testing. The Jim's Fire Safety team are always up to date with the latest fire safety regulations, with ongoing training a cornerstone of our service excellence.
The full range of Jim's Fire Safety expertise includes the best in; fire extinguisher inspection, fire hose reel testing, fire blanket inspection, even electrical testing and tagging, RCD testing, and microwave testing.
Fire safety is nothing you can ever take for granted. You'll always be sure that you, your family, your staff are all safe with Jim's Fire Safety team behind you all the way.
There's no time to waste when it comes to safety.
Contact Jim's Fire Safety today via our online form for a free quote on safety testing and inspection services.