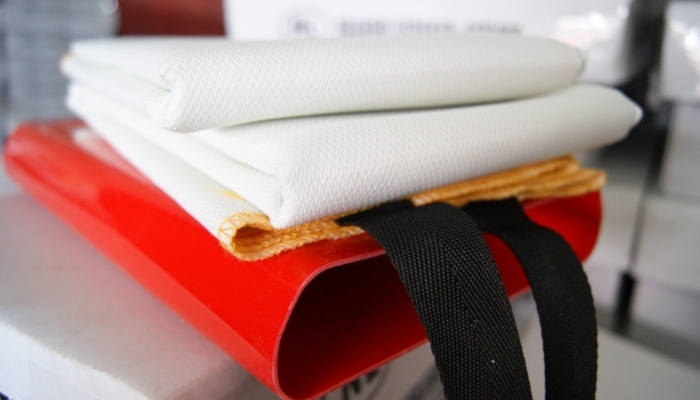 Do you operate your business out of a kitchen? Maybe you're a restaurant business, café, or canteen? No matter the nature of your organisation, if you're working with cooking fats and oils, you need to have a functional fire blanket on standby.
At Jim's Fire Safety, we offer fire blanket inspection services to businesses across New Zealand.
As a business owner or manager, you are required to provide a safe working environment for all of your employees. Fire blankets are not only essential for extinguishing kitchen fires – they're also very effective when used on people. If for some reason someone in your workplace ignites their hair, skin, or clothing, you can quickly apply a blanket to the flame and save a life.
Clearly, every business needs a working fire protection blanket.
In an emergency, you need to be able to remove the blanket from the packaging as soon as possible. The blanket needs to be accessible and it can't have any holes or tears. To make sure your fire protection equipment is useful when you need it, ask Jim's Fire Safety to visit your business today.
Any building with cooking facilities (even a staffroom) needs a functional fire blanket.
How often do I need fire blanket inspections?
At Jim's Fire Safety, we complete fire blanket maintenance services according to the NZS 4503:2005 standard for the installation and maintenance of hand operated fire-fighting equipment. According to this standard, fire blanket testing needs to occur at the following intervals:
Monthly: checking accessibility, signage, the blanket container, confirmation of annual inspections
Yearly: accessibility checks, signage, blanket container, damage to the blanket, maintenance records
If the fire blanket does not meet the requirements set out in the standard, the blanket must be immediately repaired or removed from service. Any blanket that has already been used on a fire must be condemned.
At the completion of the inspection, all maintenance, testing, and corrective action must be recorded in a log book as well as on a tag attached to the device. Blankets must be repacked by the testing technician who will put the blanket back into the container in a manner recommended by the manufacturer.
Why do I need a fire blanket?
Ideally, every building should have a fire blanket located adjacent to the kitchen. This is because fire blankets are most effective when used against class F fires. A class F fire is any flame that is fuelled by cooking fats and oils. Fire blankets are also particularly useful on fires involving liquid or clothing. By blanketing a flame, you can smother it and cut off the oxygen supply.
Fire blanket inspections are necessary to ensure the safety of your employees. Imagine trying to use a blanket and wasting valuable minutes trying to remove it from the packaging, or wrapping it around a person only to discover a hole. Avoid a tragedy by maintaining your fire protection equipment with Jim's Fire Safety. Call now and ask for a free fire blanket inspection quote.
Why should I choose Jim's Fire Safety for Fire Blanket Testing?
At Jim's Fire Safety, we are experts in fire protection testing. Our team members are fully trained and they complete all equipment tests in accordance with the current national safety standards. You can be sure that your business is compliant when you ask us to take care of your fire blanket inspection requirements.
When you have a fire protection blanket tested by one of our team members, you will receive a log book of results to help you keep track of your testing requirements. Our reports are kept on file so that you can prove your safety compliance whenever you need to.
When we create the report, we'll let you know how your blanket performed on each part of the test and assign your equipment either a pass or a fail. If your equipment passes, we'll set a date for your next test and remind you when it's due. If your equipment fails, we'll recommend a replacement or repair service.
Our technicians are fully mobile and available for testing services across New Zealand. Our friendly team members genuinely care about safety in your business. We value ongoing relationships with our clients so we provide a free reminder service to help you keep on top of your safety testing requirements.