Do you own or operate a business in Hamilton? If that's the case, you need to make sure you are on top of your fire safety maintenance requirements. Over the last few months, there have been a number of residential and commercial fires in the Hamilton area.
It is more important than ever to make sure your business has adequate fire protection equipment installed and maintained. That's why we're reminding our clients that we offer fire extinguisher inspection Hamilton wide. Check out our fire extinguisher Hamilton services
In March, plumes of fire could be seen across Hamilton thanks to a large shed fire south of the city. More than 20 fire fighters were called to the scene at local business, Penguin Pools by the acting shift manager. Unfortunately, the half of the building was filled with hay bales which added fuel to the flame. Image via stuff.co.nz.
This month, fire ripped through a Hamilton home that was gutted thanks to oil left on a stovetop, a common cause of kitchen fires across the nation. This kind of fire can be seen in both residential and commercial kitchen environments. Fires like this can be controlled with the use of a maintained fire extinguisher or fire blanket.
A man and his dog escaped a blaze at the end of May after attempting to control a fire in his car with a portable fire extinguisher borrowed from a local business. Hamilton business, Tyre Tracks, sprang into action and gave the man their fire extinguisher to use on the vehicle. Unfortunately, the car couldn't be salvaged, but both man and dog were safe. This is a great example of where fire extinguishers can be installed. It is useful to have fire protection equipment available in both vehicles and buildings. Image via stuff.co.nz.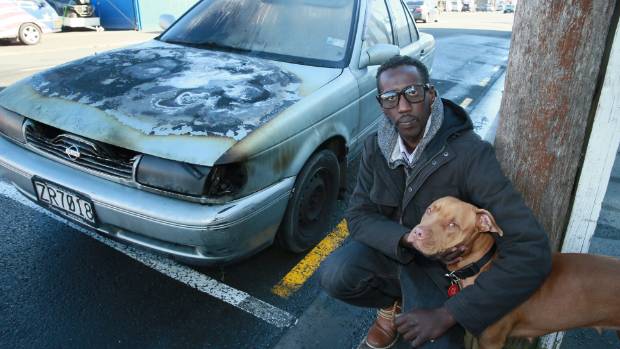 Another local business suffered losses in May thanks to a fire. Local strip club, Calendar Girls, was engulfed by flames that caused potential damage to neighbouring buildings including Biddy Mulligan's Irish Pub and the Victoria Accident and Medical Centre.
Image via nzherald.co.nz
It is clear that fires are running rampant throughout Hamilton. Now is the time to make sure your fire protection equipment is in working condition. Find out more about our fire extinguisher inspection Hamilton services now.
Fire Extinguisher Inspection Requirements
At Jim's Fire Safety, we test and inspect fire extinguishers according to the current national safety standards. According to the NZS 4503:2005 standard for Hand Operated Fire-Fighting Equipment, all types of portable fire extinguishers must be tested at least once every 12 months. This frequency can change based on the nature of your business environment, so please contact our fire extinguisher inspection Hamilton team for specific information.
Our team also conduct fire extinguisher refill Hamilton services. The frequency of your refill requirements will depend on the type of your fire extinguisher and when it was last discharged. If you have operated your fire extinguisher recently, you need to make sure it is inspected immediately. This will ensure that your extinguisher works effectively when you need it to. You may also need a replacement extinguisher, which our team can arrange.
Call now on 0800 454 654 for a free quote.
Did our article help you uncover why you need fire extinguisher inspection in Hamilton? Make sure you share it with your friends and family to spread fire protection awareness around your community.